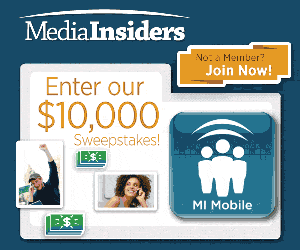 Join Media Insiders and you can choose to be entered into their sweepstakes or to earn up to $60 per year from Tango Card.  If you choose the sweepstakes entries, they give out quarterly grand prizes of $10,000 and monthly prizes of a $100 Tango Card.  The longer you run the Tango app on your device, the more entries you receive so keep it running every day to earn the maximum number of entries. That could equal as many as 12 entries per device every three months into each of their Sweepstakes!
As a Media Insiders Panelist, you're participating in ground-breaking research that will help leading companies understand the ways mobile, television, digital, social and other media are viewed, used and shared. Your participation will have a direct impact on how entertainment and information is delivered to consumers today and in the future.
To join, go here—– Media Insiders registration
1. Complete their registration form
2. Install and activate the MI Mobile app onto your device(s)
3. Watch your e-mail for important information and instructions on next steps
If you like this post, make sure to share!